What is the vital factor for an AI photo editor?
In the era of digitalization, where artificial intelligence (AI) has turned the impossible into possible, AI photo editors have emerged as valuable tools for everyone — from novices to professional photographers and e-commerce businesses. When thinking about AI photo editors, the crucial factors that come to mind are functionality, user-friendliness, and credit schemes. However, the true importance of these factors only shines when we delve deeper into their significance and the edge they provide to users. ZMO.AI's professional AI photo editor, especially, epitomizes these factors.
Understanding the Importance of Features In AI Photo Editors
In the ever-evolving domain of AI technology, there exist core features that serve to tremendously upgrade image quality, rendering them indispensable elements within an AI photo editor. These characteristic functionalities include fill generation, the process by which content or understandings are expanded or completed, background removal, a significant stepping stone towards pristine and uncluttered imagery, and background changing – an aspect that can dramatically reshape the overall impressions of an image.
Enter ZMO.AI, a burgeoning platform that masterfully incorporates AI in its operational framework. This innovatively driven platform skillfully exploits the aforementioned functionalities, seamlessly integrating them into its broader suite of image editing capabilities. ZMO.AI is not merely content with being an emergent presence in the artificial intelligence realm, instead, it actively innovates to effectively bring into play such intricate features, and in doing so, guarantees the delivery of high-caliber and avant-garde end results.
ZMO.AI stands at the forefront of AI-based platforms, owing to its commitment to leveraging advanced functional components for optimum image enhancement. Their effective utilization of these capabilities serves to produce top-grade outcomes that are both trendsetting and cutting-edge, making ZMO.AI an essential tool for any who seek the pinnacle of AI image-editing potential.
Fill Generation: Painting with AI
Fill generation is akin to giving an artist an AI-generated palette of colors. It's about AI understanding the image region that you wish to fill and doing it seamlessly. ZMO's AI models employ this technology to ensure the best possible fill for any portion in a picture that needs modification.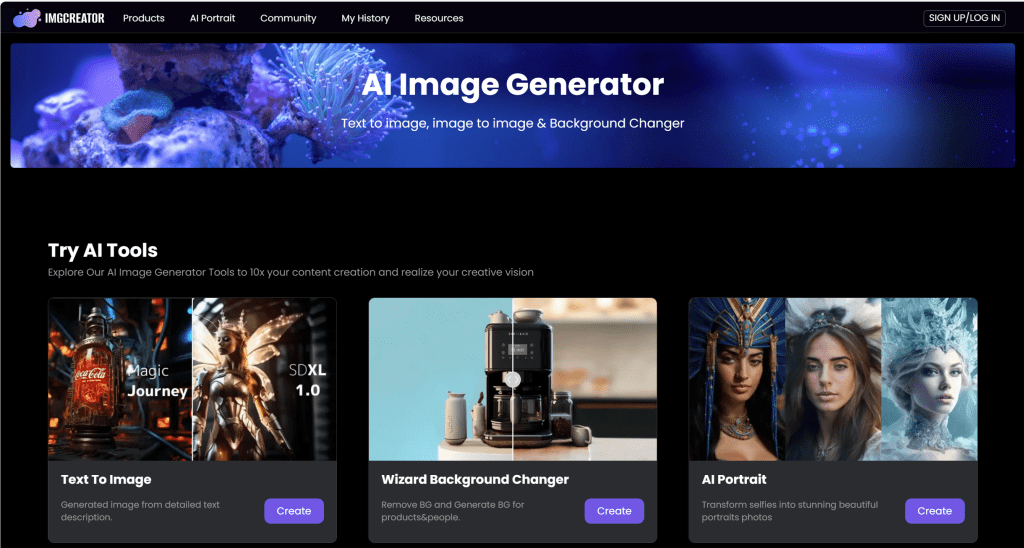 Background Remover: Simplifying Isolation
Another feature that revolutionizes photo editing experience is a *background remover*. It cleverly discards the background, leaving the main element of the image unscathed. ZMO.AI's Background Remover executes this task efficiently, making the entire editing process a breeze for users.
Background Changer: The Art of Reinvention
Background changer, a related yet distinct tool, also serves a formidable role in today's AI photo editors. Magic happens when you can replace an image background instantly. ZMO.AI takes pride in its Background Changer that paves the way for endless creative possibilities by letting users alter the photo's setting as required.
The Importance of User-Friendliness In AI Photo Editors
Whether you're a rookie or a seasoned photographer, ease of use is a factor that can make or break your photo-editing experience. An intuitive, simple-to-navigate interface makes ZMO.AI stand out, providing a user-friendly experience for everyone.
A Satisfactory Credit Scheme: The Unseen Value
One aspect that considerably enhances your engagement with ZMO.AI is the highly beneficial credit system it has initiated. This credit scheme is specifically designed to favor the user, ensuring that they stand to gain significantly from this arrangement. The way it operates is relatively simple yet effective. The scheme permits users, regardless of whether they are new or existing, to accumulate credits every single day. By doing so, they are effectively building up a reserve that can ultimately be utilized to unlock and experience a wide selection of powerful features housed on the platform.
The availability of these daily credits isn't merely a promotional tool but reflects a level of thoughtfulness that sets ZMO.AI apart. It gives users the comfort to explore and dive into a multitude of capabilities that are otherwise potentially daunting due to their power and complexity. This sort of initiative allows users not just to explore the platform at their own pace, getting comfortable with features one day at a time, but also encourages them to do so regularly, acquainting themselves with the service's depth and breadth.
At its core, this daily credit scheme portrays ZMO.AI's strongly felt commitment to its user-centric philosophy. It is a vivid exemplification of the consideration and respect the company has for its user base, further highlighting the company's resolve to understand, express, and address the needs and preferences of its users. This approach doesn't merely provide functional benefits; it allows the company to build a more personal, stronger connection with its users, enhancing overall user satisfaction and loyalty. Therefore, with ZMO.AI, it's not just about offering powerful features, but about shaping an enjoyable and comfortable user experience steeped in attention to detail and a solid understanding of user needs.
ZMO.AI: Bringing a New Wave in AI Photo Editing
ZMO.AI, as a professional AI photo editor, perfectly embodies all these vital factors. It unleashes an array of options for users to choose from, ensuring a result that aligns with their vision. If some functions are not directly accessible on the dashboard, users can just describe their requirements, and in a few steps, they get an AI-edited photo meeting their desired specifications.
Why Choose ZMO.AI?
When you ponder over the question—"What is the prime factor for an AI photo editor?"—you realize it is about offering a blend of high-end features, handiness, and a favorable credit system. ZMO.AI, going beyond these fundamentals, positions itself ahead of the curve by constantly innovating and adding more powerful features to enhance user experience.
For e-commerce businesses and photographers, ZMO.AI proves to be the ultimate photo editing tool. It serves diverse editing needs that go from altering backgrounds to swift removal of unwanted elements from pictures, all made easy and efficient by AI. These capabilities have caused a surge in the use of AI photo editors, with ZMO.AI leading the trend.
In conclusion, amongst various AI photo editor tools, ZMO.AI convinces with its multi-purpose functionalities, ease of use, and user-beneficial credit system. It not only brings life to the art of photo editing but also sets itself as a trailblazer, making it an optimal choice for all. So, if you are seeking an AI photo editor tool, let ZMO.AI be your go-to solution.
FAQs
1. What makes ZMO.AI's features unique?
ZMO.AI allows users to describe their requirements and generates tailored results accordingly. It's as effortless as it sounds!
2. How does ZMO.AI ensure ease of use?
The well-designed and user-friendly interface of ZMO.AI ensures a smooth experience for both beginners and professionals.
3. How is the credit system beneficial for ZMO.AI users?
The daily credits offered by ZMO.AI can be utilized to access and enjoy different features of the platform, making it highly cost-effective for users.
4. Can ZMO.AI cater to specific industry needs like e-commerce and professional photography?
Absolutely. ZMO.AI's myriad of powerful features perfectly cater to the special requirements of e-commerce businesses and professional photographers.
5. What sets ZMO.AI apart from other AI photo editor tools?
ZMO.AI breathes fresh life into photo editing with its revolutionary AI features, user-friendly interface, and a beneficial credit system. It accomplishes the extraordinary while ensuring simplicity and user satisfaction.